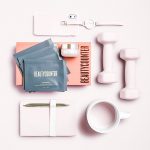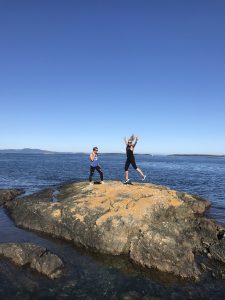 Go ahead, start a clean habit. Join @livinghollisstyle 14 day health challenge with Lesley Martel for some healthy fun! January 6-20, 2020. No refined sugar, exercise everyday and more greens. Get motivated with mindful & clean beauty tips, exercise ideas and plant-based meal inspiration. What are your self-care resolutions for 2020? Are YOU in?!?
The idea of the Health Challenge began 4 years ago when a girlfriend and I created and completed a 30 Day Fitness Challenge. We enjoyed the challenge so much we were discussing what we could do next to start the New Year feeling healthy. We chatted about doing something similar to the fitness challenge with an added component that would make us think about our eating habits. We thought no refined sugar would be a relevant and meaningful part of a health challenge, especially because there is so much talk about how bad refined sugar is for us and our children. I also wanted to see for myself if cutting refined sugar from my diet would make me feel healthier and have better focus. Thinking back to setting the guidelines to the challenge makes me laugh because I was so delusional that cutting refined sugar would be easy. Therefore, I needed to add another component of difficulty – a salad everyday. I often skip having healthy lunches and grab things like kind bars and/or handfuls of snacks like chips and sweets. Believe me, not always healthy handfuls. So, bring on the greens to the challenge. Finally, the most important part of any health challenge for me includes exercise. Exercise is my stress reliever and getting involved in the fitness community has introduced me to a wonderful, fun and supportive community I love. I always feel my healthiest after a workout. So the guidelines to the Health Challenge were almost complete. Then came up the question of alcohol…for some this was a tough one. No wine and only alcohol with zero sugar was decided to limit or eliminate alcohol consumption during the challenge. I couldn't believe I still had participants. All parameters set and with that the Health Challenge came to life with some remarkable people! This was 4 years ago and over 10 health challenges ago. WOW!
The health challenges have evolved with new ideas and contributors but I still love what the motivation and inspiration of a group challenge does for my health! it makes being healthy, FUN! If you want to join in, this is what the challenge means for us:
Cutting refined sugar (added sugar not natural sugar)
Exercise everyday (at least 30 minutes)
Increasing our greens with a daily salad/shake
Sharing a good thought for the day (spread some positive energy – appreciating, supporting and loving others is the best medicine for your health)

The Challenge
SUGAR
Natural sugar is fine and actually I hope with the challenge I increase my fruit intake. Think about eating real food and nothing packaged. Read labels, if you see organic cane sugar that is refined sugar, so avoid it. I am also going to stay away from artificial sweeteners like aspartame. You can use honey or maple syrup as sweeteners as they are natural. However, these substitutes still give that sugar taste and can make it harder when trying to stop sugar cravings. Many condiments like ketchup have tons of sugar so just remember to be mindful of hidden sugars. My favourite yogurt has added organic cane sugar so I can't have it.
EXERCISE
For exercise, you can do whatever motivates you but you have to do at least 30 minutes a day. If you live in Victoria I will get us some passes to try some local fitness classes. Lesley the contributor to this challenge also does amazing workouts daily, follow along with her to get an incredible workout in.
GREENS
Think plant based. I know adding a salad daily helps me to create interesting greens and increases my vegetable intake. I loved seeing all the different salad and shake creations during the challenges – so yummy.
Committing to this challenge also means 3 pictures to our closed FB group daily for 14 days. 1 of your sugarless choice, 1 of your exercise and 1 of your green salad/shake. The pictures can be of the scenery of your exercise, your sneakers after a workout or your sugar free coffee as examples. You don't have to be in the picture if you don't want to be. Combining 3 photos is really wonderful as it makes it easy for us to see and comment on. Come on, just do it!!