Touchup Skin Concealer Pen
Dark circles, redness, and other imperfections are no match for this buildable, medium-coverage concealer. In addition to providing flawless coverage, it's formulated with knotgrass extract to help reduce the appearance of fine lines and photoaging—so skin looks firmer, brighter, and instantly more even. The click-pen design and brush applicator make it easy to apply just the right amount exactly where you need it.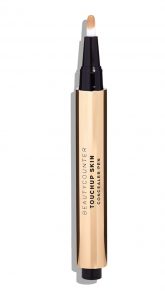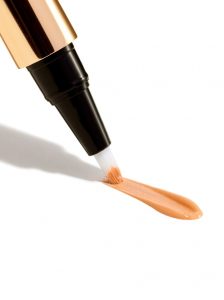 How To Erase Your Under-Eye Circles?
Whether genetics or late nights are to blame for your under-eye imperfections, banishing those dark circles is the quickest way to look well rested. In today's instalment of our #MakeupMonday video series, our Head of Innovation, Christy Coleman, reveals her technique for cleverly concealing dark under-eye circles and unwanted imperfections.
First, grab our Touchup Skin Concealer Pen, a long-lasting formula made without BHT—an ingredient linked to cancer and hormone disruption and often found in similar products. You'll also need our All Over Eye Brush, which is made with soft, animal-hair-free taklon bristles. Watch the video below to see how to get a fresh look in two simple steps.
Step One:
Using light, gentle strokes, apply our Touchup Skin Concealer Pen in a V or inverted triangle shape under the eye area.
Step Two:
Blend using our All Over Eye Brush, and then gently press into skin with your ring finger for a flawless finish.
BONUS TIPS
"If you have additional product that you've dispensed, apply a little concealer down the center of your nose and Cupid's bow for some additional highlighting," says Christy.
"Our concealer also works as the perfect eye primer, especially if you would like to even out dark lids," says Christy. "Since the skin on the eyelids is quite sheer, you can really see blood vessels and discoloration. Using Touchup provides you with an even canvas that will create consistent shadow coverage."
Photo credit: Photo 1&2 @beautycounter, featured image @kdcbetterliving