Hi Everyone! Day 4 of Isolation Ideas. Thank you Lesley Martel & Jennifer Brown for the last 2 days!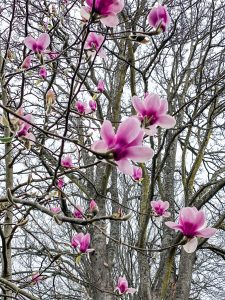 How is everyone holding up? I am finding it challenging (really miss friend hugs & my independence) but I am working hard to keep a morning routine to help me mentally keep it together for a great day. 💗
Tips From My Day:
1) Develop a Home Morning Routine
Developing a morning routine helps me to be more stimulated and productive in my stay home reality. During this time, I think about how I want to EAT, MOVE and be MINDFUL. I like to do this early over coffee. ☕️ Holding a warm coffee relaxes me, it feels & tastes like a treat and it is associated with my own special time. Love a good Americano Misto.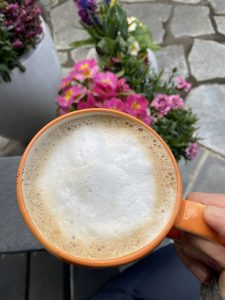 2) EAT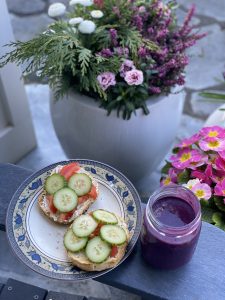 When it comes to food I love simple, easy things to make. Yes to grab & go meals for me. That's why I love protein shakes, simple lunches like (bagel, cream cheese, cucumbers & tomato) and dinners that can be made in 30 minutes or less. Too many steps and I'm out. I have shared my blueberry shake and corn & black bean enchiladas recipes from today.
3) MOVE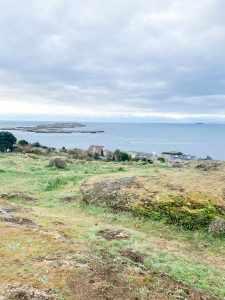 Walking for me is the best. Even if it is terrible weather I am always happier when I get home. It has always been a part of my day. The fresh air and nature blooming is invigorating. I am also very respectful of social distancing at this time.
The family will do Lesley's home workout that she added to the group – it is always an amazing sweat session, 30 minutes and done. Yay! 
4) MINDFUL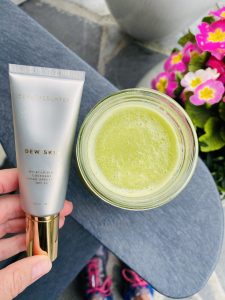 I like creating new posts and learning about new products for my beautycounter business. Working and learning keeps me inspired in my health & beauty business.
I love to call my mom daily and FaceTime my sisters. They are far away right now so checking in always make me happy!!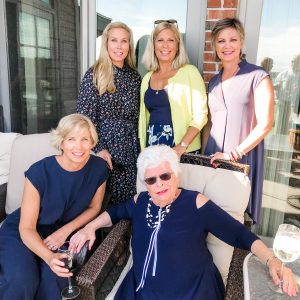 I hope you guys are having a happy & healthy Thursday!
RECIPES:
Blueberry Blast Smoothie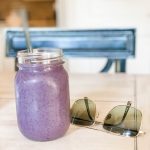 Ingredients
1 Scoop Shakeology Vanilla
1/2 cup almond milk
1/2 cup water
1 cup frozen blueberries
1 banana
Ice
RECIPE: BLACK BEAN ENCHILADA CASSEROLE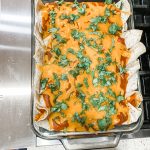 Enjoy this flavourful Mexican dish with a casserole twist that's not only easy to put together but adds pure spice to the dinner routine. Since this recipe calls for you to layer ingredients as a stack, versus individually hand-rolling the enchiladas, we recommend  that you bake the corn tortillas separately in the oven until crisp. With traditional enchiladas, the corn tortillas become mushy, but by toasting them in the oven, they help this casserole keep its shape. Serve with light sour cream, fresh salsa, and guacamole for a real fiesta. Olé! This dish is vegetarian friendly and can be made with store-bought baked tortilla shells from the grocery store (instead of toasting them youreself) if you are short on time.
Ingredients
2 (14-1/2-ounce) can diced tomatoes
1-½  cups chopped green onions, green parts only
1 cup store-bought salsa or Salsa Rio Grande
2 (11-ounce) cans black bean soup
1 (15-ounce) can black beans, rinsed and drained
10 ounces reduced-fat Cheddar cheese, shredded (2-½  cups)
Directions
1 Preheat the oven to 350°F. Coat a 9 x 13-inch casserole dish with cooking spray.
2 Bake the tortillas in a single layer on baking sheets for about 10 minutes or until crisp. Set aside to cool.
3 In a large skillet set over medium-high heat, combine the tomatoes and their juice, green onions, onion, salsa, and cumin. Bring to a boil, reduce the heat to low, and simmer, uncovered, for 8 minutes.
4 Stir in the soup and black beans, and cook 5 minutes or until heated through.
5 Spread one-third of the bean mixture over the bottom of the prepared casserole dish. Top with half of the tortillas, overlapping as necessary, and sprinkle over 1 cup of the cheese. Add another third of the bean mixture, top with the remaining tortillas, and sprinkle on 1 cup of the cheese. Finish the layers with the last third of the bean mixture and remaining ½ cup cheese.
6 Bake the casserole for 25 to 30 minutes or until heated through, and serve hot.
Makes 6 to 8 servings.
---
Jody Hollis
@livinghollisstyle