A Twist on Brussels Sprouts!
As the fall season is upon us this comes with warmer dishes like roasted veggies.   This simple & savoury glaze is amazing for brussels sprouts, but also taste delicious with a variety of rooted veggies!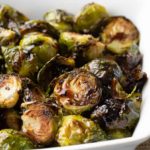 What you need:
1/4 cup pure maple syrup (preferably dark amber)
1/4 cup apple cider vinegar
1/2 tsp chopped fresh rosemary
2 tsp sea salt (or Himalayan salt)
1/2 tsp ground black pepper
1 tsp unsalted organic grass-fed butter (optional)
8 cups brussels sprouts, stems removed, cut in half lengthwise
1 tbsp olive oil
How to make:
Preheat oven to 450F.  Line large baking sheet with parchment paper. Lightly coat with spray. Set aside.
To make glaze, combine maple syrup, vinegar, rosemary, 1⁄2 tsp. salt, and 1 dash pepper in small saucepan. Bring to a boil, over medium heat, stirring occasionally. Reduce heat to medium-low; gently boil for 20 to 25 minutes, or until glaze has thickened to the consistency of syrup, foamy bubbles appear on the surface, and harshness of the vinegar has evaporated. Remove from heat.

Add butter (if desired), whisking constantly until fully incorporated. Set aside. (You should have about 1⁄2 cup of glaze.)

While glaze is cooking, bring water and 1 tsp. salt to boil in large pot over medium-high heat.

Add brussels sprouts to boiling water; cook for 4 to 5 minutes, or until bright green and tender-crisp.

While brussels sprouts are cooking, prepare an ice bath by filling a large bowl with ice and cold water.

Drain brussels sprouts and place immediately in ice bath for approx. 5 to 10 minutes (or rinse under cold running water until fully cooled). Set aside.

Drain chilled brussels sprouts. Combine brussels sprouts, oil, remaining 1⁄2 tsp. salt, and remaining 1⁄2 tsp. pepper in a medium bowl; toss gently to blend. Spread evenly on prepared baking sheet. Bake for 15 minutes, rotating pan once, or until edges begin to crisp.

Pour glaze over brussels sprouts; toss with a spatula until well coated. Bake for an additional 5 minutes, or until a shiny glaze has set over their entire surface.
Cool a few minutes. Stir before serving. Enjoy!
Receipe credit to Autumn & Bobby Calabrese of the Fixate and the Beachbody blog.   
https://www.beachbodyondemand.com/blog/maple-glazed-brussels-sprouts-recipe