This Mexican Cauliflower Fried Rice is packed with veggies, protein, and lots of flavor and spice!  It's topped with an easy guacamole and chipotle ranch sauce for a tasty, filling meal that's Paleo, Whole30 compliant and keto friendly.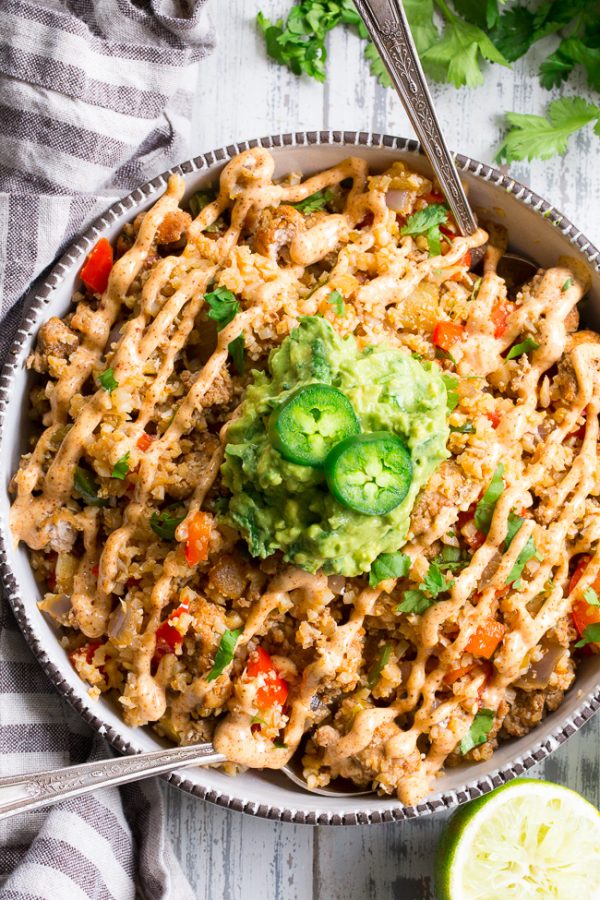 My vision of cauli rice was a whole lot of mess with resulting boring mushy "rice" that tasted nothing like actual rice.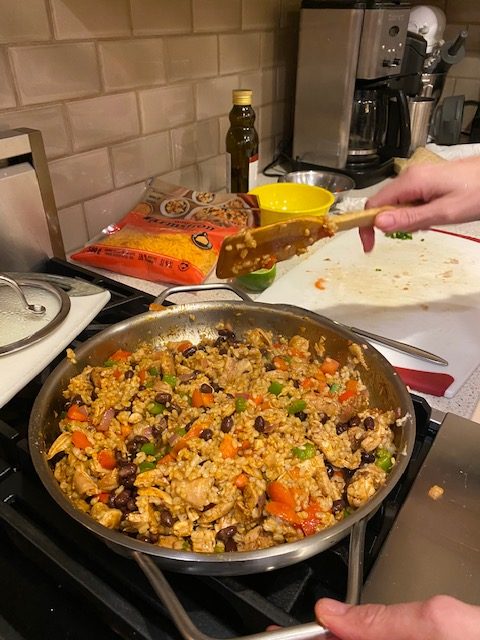 Much like I had to accept that zucchini noodles weren't actual noodles, I needed to accept that cauli rice wasn't rice, but could be seriously awesome anyway.
I also needed to accept that I was going to have to compromise with myself and be lazy – I bought the pre-"riced" cauliflower at the grocery store and didn't look back. For all of you who ain't got no time for the mess – get the pre-riced cauli!  And, for those of you who like ricing your own – more power to you!
Anyway, cauli rice can definitely be awesome in its own right – it's amazing sauteed/fried, and picks up all the flavors it mixes with like a dream.  When I first decided to make this chicken and bacon fried rice, I was completely sold – cauliflower rice can actually be pretty darn awesome.
I knew I was due for another cauliflower fried rice recipe but I wanted to make the flavors really different than the last.
I decided to go the Mexican-inspired route since I've been on a big guacamole kick lately – it's SO perfect to top off this cauli rice!
For the ground meat, I actually used a mixture of ground beef and ground chicken, just based on what was in my fridge.  You can use any ground meat at all, but I highly recommend one that's a little less lean since it adds better flavor in my opinion.  That said, simply adding a bit more cooking fat if you use a leaner meat will work out just fine.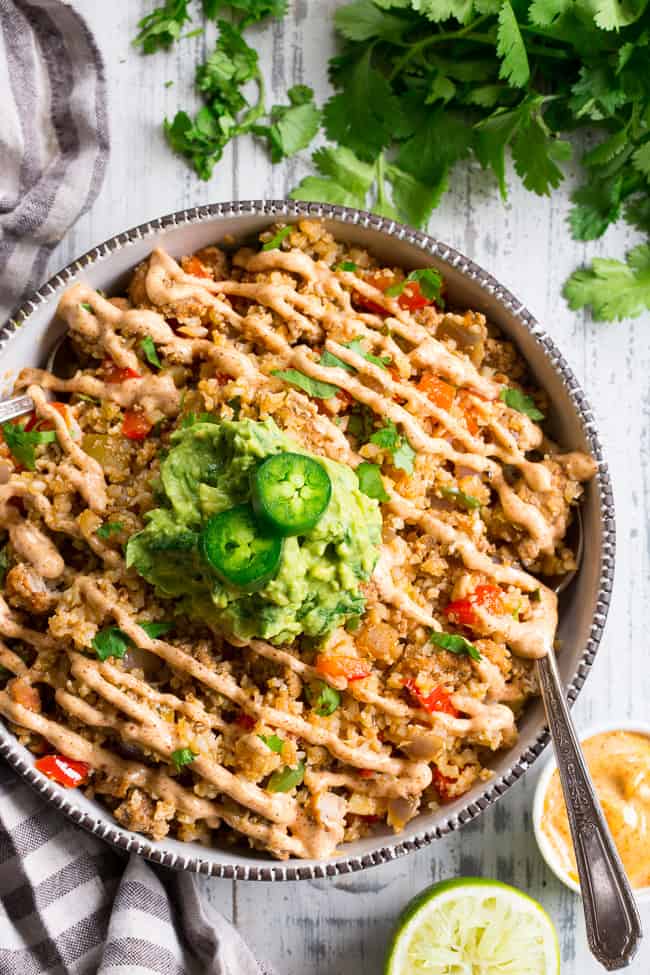 The add-ins are super simple – onions, peppers, garlic, spices, diced green chilis and jalapeno.  The toppings make it over-the-top tasty!
I went with my chipotle ranch – which is probably my most-made mayo-based dip/sauce.  It goes with nearly everything and it's so perfect here!
The guac also takes it to the next level – you get healthy fats, flavor, texture – the whole deal.   Also, if you're planning to make this ahead of time, you can prepare everything in advance with the exception of the guacamole and be totally good to go with a toss in the skillet to reheat the fried rice.
I hope you're ready for an easy and oh-so-yummy, filling and heathy meal – let's get cooking!
Ingredients
12

oz

riced cauliflower

about 1 head, just shy of 4 cups

1

lb

ground beef

turkey, chicken, or pork

3

Tbsp

cooking fat

coconut oil, bacon fat, olive oil, ghee, divided

1/2

tsp

fine grain sea salt

1/2

tsp

onion powder

1/2

tsp

garlic powder

1

tsp

cumin

1

tsp

chili powder

generous dash chipotle pepper adjust to your taste

or omit

1

red bell pepper

diced

1

small yellow onion

diced

3

garlic cloves

minced

1

jalapeno pepper

seeds removed and minced

Cilantro for garnish

1/2

cup

homemade chipotle ranch dip

1

batch easy guac

see below:
easy guac:
1

large ripe avocado

or 2 small, mashed

2-3

Tbsp

onion

minced

1

clove

garlic

minced

1-2

Tbsp

jalapeno peppers

minced

1 1/2

Tbsp

fresh lime juice

2

Tbsp

chopped fresh cilantro

plus more for garnish